Whether it's for a long, passionate weekend, or whether your idea of quality time is dinner and a show, sea kayaking, or just a leisurely walk hand-in-hand through the park, you'll surely find what you're looking for in our the top 5 Romantic destinations.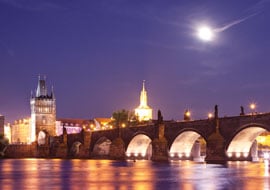 Gothic: Prague
Some of you might be surprised at Prague's inclusion in a list of romantic cities, but this jewel of Central Europe has it all – winding medieval streets, lively cocktail bars selling delicious brown beer, stunning architecture, and an abundance of galleries, museums and live music. Looming over everything is Prague's historic Hradcany Castle, which is over 1,200 years old.
Prague gets even more romantic as night falls. A stroll along the Vltava River, taking in Charles Bridge, is strongly recommended, as is a visit to the Astronomical Clock in the Old Town Square, along with the Bridge Tower and its macabre cuckoo clock. Settle in for a traditional dinner of goulash with roast pork dumplings in one of the many boutique restaurants, and grow to love the relaxed, fairytale world of Prague.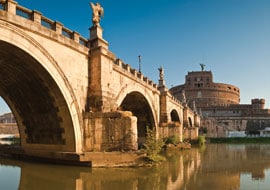 Dolce: Rome
As anyone who's seen La Dolce Vita will know, Rome is probably the most romantic city in the world. It is also one of the most historic, although its present-day inhabitants can speed past the Coliseum on a Vespa without blinking an eye. That 'The Eternal City' can place profound history side-by-side with modern urban living is just another of its charms.
And for a romantic break, Rome cannot be beaten. Visit the enchanting Trevi Fountain, trying to sidestep the rose-sellers and photographers. Take a bicycle ride on the tranquil Appian Way. Sit and people-watching on one of the piazzas while sipping an espresso. Try the famed pasta in Piazza Navona, and indulge your sweet tooth at Il Gelato di San Crispino. Your first visit to Rome will have you hooked.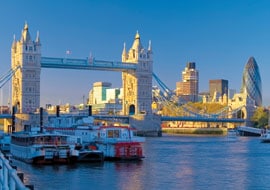 Nearby: London

Only an hour away, London might strike some as an unusual choice for a romantic break, but this 'world in one city' offers a cornucopia of activities for you and your significant other. Rowing a boat on the Serpentine lake in Hyde Park, taking a stroll through the rose gardens in Regent's Park, or just taking everything in on Primrose Hill – relaxing soujourns such as this belie London's reputation for endless hustle and bustle.
For those of you craving a bit of excitement, London is not short of nightlife. For the easy option, Covent Garden and Leicester Square are packed with pubs and clubs. The more adventurous and discerning couple might want to venture out to Soho or Shoreditch. And dont forget all the tourist things – London Eye, Tower Bridge, the Houses of Parliament and so on. London will leave you wanting more.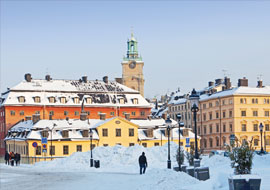 Beauty: Stockholm

Stockholm, capital of Sweden, is one of the most cutting-edge, stylish, beautiful cities in the world. The sleek buildings and sights are framed between blue water and skies – the skies over Stockholm are famous for their beauty, and with the city housed on 14 islands, there's lots of water around.
If you're looking for activity, Stockholm is for you. Hiking, water sports, kayaking and bicycling are all available, and the stunning scenery makes any activity all the more enjoyable. For culture, the old town (Gamla Stan) and the Royal Palace are well worth visiting, and the Modern Art Museum rivals the galleries of any European city.
Designer cocktail bars and eclectic live music venues are the order of the nightlife, and the restaurants of Stockholm deserve special mention. Finally, for a better view of this enchanting city, try the SkyView – or better yet, hire a hot air balloon ride, with complimentary glass of champagne, and savour the beauty that is Stockholm.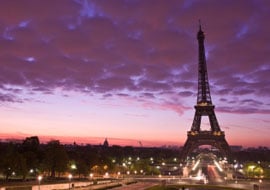 Chic: Paris

The 'City of Light' is an obvious inclusion on any list of romantic getaways, almost to the point of cliché. But it's there for a reason, and continues to exude magic for couples and honeymooners the world over. Leaving aside obvious stops such as the Eiffel Tower, Notre Dame, the Left Bank, the Louvre and the Tuilleries, Paris caters to every possible romantic whim.
For avid shoppers, there's the consumerist paradise that is the Champs Elysees; take a break from it with a double espresso in a little bistro that's straight out of Amélie, and then walk along the Left Bank of the Seine to Sacré-Couer Basilica for breathtaking panoramas of the city. Finish it off with an evening trip to the Eiffel Tower to catch the sunset, then dinner and some jazz at Le Caveau. Paris is a magical place when you're in love.
Holiday cancellation
Up to €7,500 cover for holiday cancellation (Platinum product)
Coverage
Cover for trips of 3 days to up to 12 months
Sports and activities
Over 50 sports and activities covered free
Assistance
24/7 emergency medical assistance helpline
You also may be interested in …